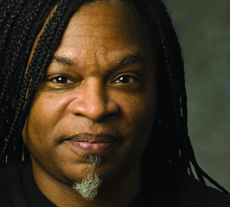 Bob Hobbs graduated from the University of Hawaii, and has been a professional artist since completing post-graduate work at the prestigious Rhode Island School of Design in 1974. He's illustrated the works of over 130 different authors, and is hard at work on several more books right now, in addition to being a full-time graphic designer for the Centers for Disease Control in Atlanta, Georgia.
An acknowledged master in the field of fantasy art with its stunningly intricate and beautifully bizarre digital colorizations, Bob also enjoys illustrating simple children's stories in pen and ink. Whether working digitally, with watercolors, or with pen & ink, the man produces stunning artwork on a daily basis.
Bob, what was it like to work on this project?
For me personally, it was an opportunity to get back to my roots as a pen & ink artist. I began using ink back in the early 70s, and pretty much built my reputation on my ability to create highly detailed, intricate drawings with ink. Then graphic computers came along in the 80s, and I jumped on that bandwagon, rather reluctantly at first.
And although I became quite proficient at digital and 3D graphics, I longed to get back to doing what I love most… feeling a quill pen in my hand and creating something with it on paper.
So when Kay came along and asked me to do the artwork for her book, I saw the chance to go back to old school illustration. I've always loved the works of classical book illustrators like Maxfield Parrish, Clement Coll, N.C. Wyeth, Arthur Rackham, and admired their amazing skills with pen and ink.
Since landing Kay's gig, I've been offered 5 other book illustration projects by various publishers, and I plan to use my old rusty, trusty quill pens on these projects, too.
As far as the subject matter of Shadow in the USA goes, I found it fascinating. The dark half of nature and the universe is not necessarily the evil side, just the side that's not as clear to us because we've spent so many life times ignoring it or shunning it. Mankind hates the dark side because he doesn't understand it. He doesn't understand it because he's afraid to look at it.
Kay shines a big, bright orange Home Depot flood lamp on it and dares you to look.
How did you create the illustrations for Shadow in the USA?
The illustrations for Shadow in the USA were created with a combination of traditional media (pen & ink) and digital media (Photoshop). The illustration was first worked out in pencil, then done over in black ink. Then that finished ink drawing was scanned into Photoshop.
The scanned ink image, or what we call "line art," is cleaned up and made to look sharper by employing various operations in Photoshop such as the Level function, which allows you to adjust the balance of white and black so that no gray areas remain in the picture. This is good for cleaning up any stray pencil marks or smudges that might have been picked up by the scanner.
When satisfied with the quality of the line art, the coloring process can begin. First I create a new layer above the line art layer. (Photoshop allows you to work on multiple layers in a single image. It's similar to working on planes of glass stacked one atop the other. This allows you to keep certain elements of the image separated from others. This is essential for making alterations to one area without messing up other parts of the image.)
A MULTIPLY layer allows me to add color and still see the black ink line art underneath.
I call these layers FLATS because I add solid flat colors… one at a time, one per layer, to establish the basic color of each element in the picture.
Then I create another layer atop the FLAT color layers and I make it a MULTIPLY layer as well. This layer I call the TONES layer. It's used to add subtle tones and gradations to the colors to give them more form and depth. I use the Magic Wand tool here, the digital Airbrush. It allows me to touch one of the FLAT colors while creating a little mask around it which protects the rest of the picture from any overlapping colors. By creating the mask around a particular area, I can airbrush without worrying about colors splashing all over.
The TONES layer takes a lot of time. I work each color one by one, getting into every corner, making sure I don't miss any spots and that the gradations look correct, aren't too heavy or too light.
The last step is adding high lights. I do this by creating one more layer but this time it's a NORMAL layer instead of a MULTIPLY layer. High lights are those bits of shimmer that make metal gleam, add shine to someone's hair, a glint to an eye or make fabric look like satin. I use white color in the airbrush tool to add highlights.
And here is a finished image.